I am hosting this week's Sketch Saturday and have arranged a wonderful sponsor, my local craft store Sir Stampalot.
Sir Stampalot is a retail shop and online website that specialises in stamps, die cutting and paper-crafting goodies. We try to offer exceptional delivery times on your orders as well as keeping our stock fresh, new and exciting! Our dedicated team of card makers means we have a wonderful, inspirational online card gallery with many more cards still to upload! Sir Stampalot ships internationally as well as domestic so why not check us out if you haven't already?
The prize this week offered by Sir Stampalot is the AI Clear Stamp Set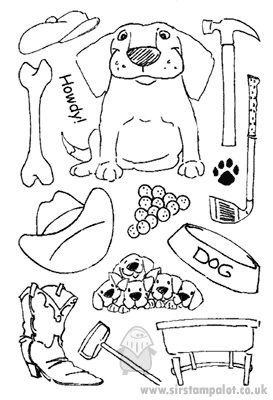 And this is the fabulous sketch I designed for this week's challenge. I do love my layers, so I hope you like this one!
Sketch # 291:
Our Guest Designer for January is the very talented and lovely
Louise Roache
.
Louise is the Copic certified class teacher at Sir Stampalot's, who first introduced me to the world of copics and colouring a few years ago! She is currently on the design team for Whimsy Stamps and the challenge blog, A Creative Romance. This lady's colouring skills are just amazing so go check out her blog too! And here is her gorgeous card...
And here is mine using the Marvelous Mouthful's Dog stamp set generously donated to me by Sir Stampalot. To get the bone (or any of the other stamps into his mouth, you just need to cut along his mouth line with a craft knife and pop it in! I kept this card fairly simple as I wanted to use it for a man's card, but didn't add a sentiment until I decide what occasion it is for!
Stamps: Marvelous Mouthfuls Dog from AI Stamps
Papers: Cajun Craze, Always Artichoke, Whisper White, Regals DSP Stack (Retired) all from Stampin' Up, Copic X-Press It Blending Card
Inks: Cajun Craze, Always Artichoke, More Mustard (Retired) all from Stampin' up, Memento Tuxedo Black, Copic Markers
Accessories: Burlap Ribbon from Stampin' Up, Frilly Frames #5 Dies from Go Kreate, Oval Nestabilities from Spellbinders
Copics Used:
Dog - E23, E25, E27, Y26, Y28, C5, C7, C9
Hat - E08
Bone - W1
And that's all from me for today folks! Hope you like the new look to our challenge blog - Jen has done a fantastic job of it all! Don't forget to pop on over and join in the fun!